LiveNevis Developments Ltd. is a specialist property development company based in Nevis. The company's main focus is to build high quality, luxury villas that reflect the Nevisian style and afford the most enviable views in the Caribbean.
LiveNevis Developments Ltd. has begun construction for 14 luxury villas, situated on approximately 5 acres overlooking the Caribbean Sea at Cades Bay, Nevis. Known as Sunset Ridge, each residence will have a private pool and beautifully  Landscaped grounds of about 1/3 acre with additional land set aside as a communal park area. Built in the traditional Nevisian style, the villas will enjoy enviable views out towards St. Kitts and magnificent sunsets to the West.
LiveNevis Developments Ltd. has entered into a joint venture with NASC International; one of the most successful, trusted name in the international immigration industry based in Dubai, Dr.Rod Murtada, CEO of NASC has opened a brand new office in Jumeirah Lake Towers, Dubai. To service the requirements of his prestigious clients from the Middle East and Asia who are looking to purchase luxury homes in Nevis.
NASC, established in 1986, is the most successful, trusted names in the International Immigration industry. We have served People for around 25 Years now, helping them with immigration and re-settlement solutions.
We have a history of providing diligent and reliable Consulting services, and have a network of satisfied clients to mark our success. Over the years, we have assisted clients from over 50 different countries, with respect to services related to Canada,Australia, the USA, St. Kitts & Nevis and other jurisdictions. Since 1986,North American Services Center has principally been located in Dubai, U.A.E.,and has established a strong presence throughout the Middle East and beyond.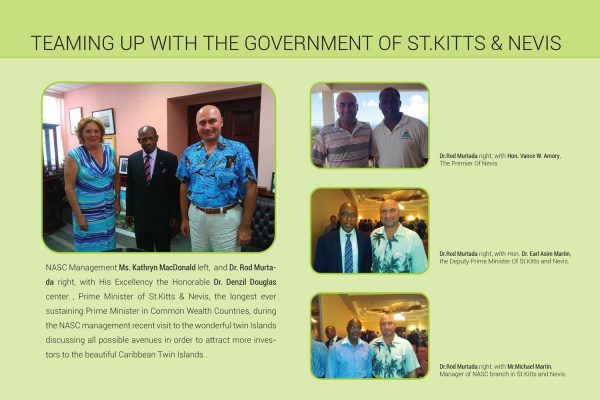 more detail visit www.nascintl.com